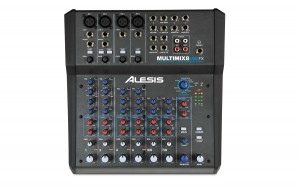 Now for a bit of a "technical" break.
Thanks to the awesome little league team that I coached and some amazingly generous in-laws, I was able to purchase an Alesis Multimix8FX mixer at Guitar Center for my home recording. I unwrapped it, replaced my M-Audio Mobile Pre, and wanted to do an immediate test recording… only Reason 6 would not identify the device.
I did the logical thing. Search google for "Does Alesis Multimix8FX work with Reason?" There was sparse information, but ultimately I found the advice that worked, and it is a simple download.
1) Follow the instructions in the manual that comes with the Alesis mixer with the sound properties, etc.
2) Download and install the ASIO driver at http://www.asio4all.com.
3) Reboot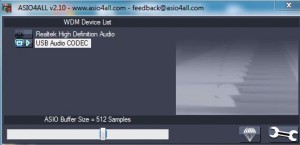 When I first did this, I loaded up Reason and was immediately frustrated because – again – Reason told me to check my sound card. Reason could not find any mono/stereo inputs for me to record into. However, about 15 seconds later, a window appeared from the bottom right corner of the screen indicating that the ASIO4ALL had a little driver icon in my taskbar. I clicked that and I saw that the USB Codec was NOT selected within the driver. I selected that, ran Reason, and THIS came up on the bottom of my Windows 7 screen: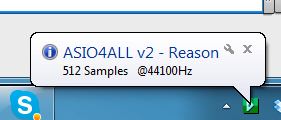 Once you see that pop up (as you are loading up Reason), you are cooking with gas. I hope this helps someone fix the problem in record time. Have fun!