YouTube Christian Collab II Update: We have raised $103.99 for poconoprc.org as of this update. Won't you join us?

Last month, it took only 48 hours for Christian blogger Jon Acuff to raise $30,000 to build a kindergarten in Vietnam. He had anticipated that it would take a month and a half, if it would happen at all.
It is a month later, and his blog has already raised enough for ANOTHER kindergarten. That's $60,000… for children in a country that you can bet 95% of the contributors have never been to and likely never will.
Yesterday, the YouTube Christian Collaboration II received donations from a person in the Philippines and a person in the Netherlands. The fellow in the Philippines happens to be my wife's cousin, so I know for a fact that he has never set foot in the Poconos of Pennsylvania. I imagine the same is true for Ms. Netherlands.
Yet, these small gestures of $9.99 worth of kindness will help to move mountains. With a click of a mouse, they have helped to save a life of an unborn child some thousands and thousands of miles away from their computer screens.
I have a big smile on my face writing this, thinking about what an amazing experience it had been to be a part of Jon Acuff's project… and what an amazing feeling it is to galvanize with fellow believers in this case for God's glory. No finger pointing. No personal attacks. Just a few Christian folks moving His feet and His hands and His love.
I wonder how the original apostles and disciples would react to see how "the body of Christ" can communicate together in today's world. In their day, the "body" was very much limited in such a way that the right hand would have no idea what the left was doing… or, at least, it would take a long time for each hand to know what was going on.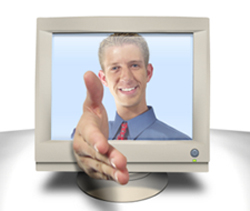 Today, we are blessed with the ability to help those in need, thousands and thousands of miles away, in a matter of seconds. We can share testimonies and witness to people we have never met in person. We can share the Gospel with total strangers who we only know as bits and bytes on a computer screen. We can share Christ's love without a word coming out of our mouths.