YouTube Christian Collab II Update: We have raised $152.18 for poconoprc.org as of this update. Won't you join us?
Yesterday afternoon, I was heading out to meet my wife and son for lunch after I had gotten our car an oil change. We were meeting for lunch right next to a Target, where I planned to find a birthday present for my Dad.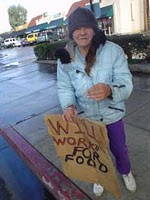 As I was stopped at a red light at the off-ramp, I saw a destitute-looking woman with hard lines on her face, some three cars ahead of me, on the side of the road. She was holding a sign that read "Please help. Homeless."
I did the sizing-up thing in my head that we folks (even if good-intentioned) do when we see people in this predicament. Things like: "If I give her money, she's just going to use it to get her next fix." Or, "do I have to give her booze money?" Or, "she's probably not even homeless."
And, as these things were running through my head, I felt God calling on me to give her money. So, I widdled in my wallet, and I saw a dollar bill. Then, five dollar bills. And, I started to sort the five dollar bills, when I heard in my head "give her a $20."
I thought: "What? This could go to lunch!"
"Give her the $20."
"But…"
"Give her the $20."
So, I did. I gave her the $20, looked at her in the eyes, and I said "God bless you." As she noticed the amount, I heard her shout "Thank God!" And, I felt good about myself. Yes, all about me, right?
Nope.
Shortly after, I entered the Target, and I was feeling so good about myself that I said to God "if someone in here needs help, I'm ready, Lord."
I headed to the electronics/music section looking for something "Beatles," but I couldn't find anything… so, I looked at a FLIP HD camera, and I saw one that was decent for $149.99.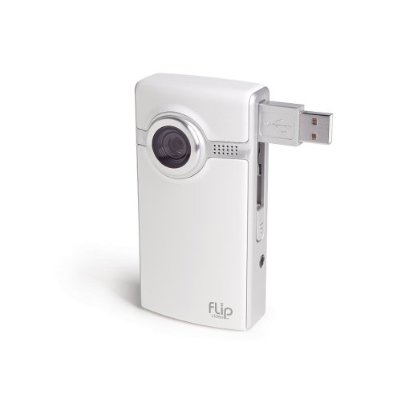 I had to ask the cashier to unlock the door to get a camera for me, so I said: "I'd like the FLIP camera."
"The one for $149.99?" he asked.
"Yes."
So, he unlocked the cabinet, got the camera, and we headed to the cash register to pay.
And, it was right here where God gave me a strong message… it wasn't me that needed to help anybody. It was God needing to show me some of His awesomeness.
"Oh," said the cashier, looking surprised. "Looks like this item is now $20 off."
Bring the whole tithe into the storehouse, that there may be food in my house. Test me in this," says the LORD Almighty, "and see if I will not throw open the floodgates of heaven and pour out so much blessing that you will not have room enough for it., Malachi 3:10
Apparently, *I* was the one who needed some biblical help, and God – in His infinite mercy – provided.