I suppose it makes sense to put up a "rules of the road" for the Cover to Cover Bible Reading Project and how I think this will all work…
I'll be doing regular YouTube videos about the various readings, and I'll post them up here. I'd love it if you all decided to keep your own blogs, as well, but I'm hoping that most of the discussion will go in the blog comments here.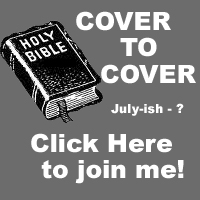 There will be an assignment every week, and it will be a shorter or longer assignment dependent upon how far everybody is. Feel free to message me privately if you aren't caught up yet (I won't mention you by name). 🙂
Rules of the Road are simple.

1) Be respectful.

2) Follow the greatest commandments of loving God with all your heart, mind, soul, and strength and loving your neighbor as yourself.

3) If you have a problem with somebody, keep it private. And, if there is no resolution, dust your shoes off and be respectful to the person you have a problem with, but don't feel obligated to get into further discourse with that person.

4) If someone tells you that they don't want further discussion with you, then be respectful and do not continue the discussion.

5) Have fun!
I'm thinking this might also turn into live chat Bible Studies on a website like Stickam.
Thanks for joining me on this journey!