Read other thoughts in the original blog entry by clicking here
Assignment #2: Read Genesis 5-16
Goal: Read by Saturday, July 17, 2010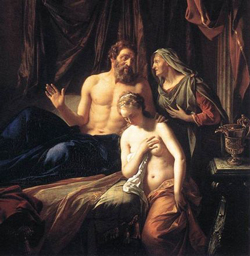 Summary of my thoughts and questions:
(1) In the beginning coincides with science.
(2) Let there be light = quantum mechanics?
(3) Evolution incompatible with the Bible?
(4) The Sabbath Day… why don't we keep the Sabbath day holy?
(5) Genesis 2, why different than Genesis 1?
(6) How cool is it that the Tigris and Euphrates still exist?
(7) Where is Eden? Is it still guarded?
(8) Genesis 1-4 is a great display of God's patience with us, and wishes for us to confess our sin without His forcible coercion.
(9) What is the purpose of Lamech's speech to his wives?
(10) Did God create others outside of Adam and Eve from the dust (and what I didn't say in the video — does this affect the concept of Original Sin?)
Thoughts?