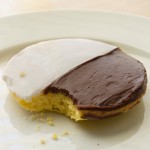 When I was a kid, one of my favorite things in the world was the Black and White cookie from Brown's Bakery in North Hollywood, CA. Sadly, that place is no longer around… and I spent a few years missing the cookie… until I discovered a recipe in the now-defunct Gourmet magazine.
The recipe is spot on.
And, I'm thinking I need to make some!
Ingredients:
For cookies —

1 1/4 cups all-purpose flour
1/2 teaspoon baking soda
1/2 teaspoon salt
1/3 cub well shaken buttermilk
1/2 teaspoon vanilla
7 tablespoons unsalted butter, softened (almost whole cube)
1/2 cup granulated sugar
1 large egg

For icings —

2 3/4 cups confectioners sugar
2 tablespoons light corn syrup
2 teaspoons fresh lemon juice
1/2 teaspoon vanilla
4-6 tablespoons of water (3 was good enough for me)
1/4 cup unsweetened Dutch-process cocoa powder (I used Kroger's)

Make cookies:

Put over racks in upper and lower thirds of oven and preheat to 350. Butter 2 large baking sheets. Baking sheets should be relatively thin. I used one thin and one kind of thick, and the ones on the thick sheet took longer to bake.

Whisk together flour, baking soda, and salt in a bowl. In a separate cup, stir together buttermilk and vanilla.

Beat together butter and sugar in a large bowl with an electric mixer at medium-high until pale and fluffy, about 3 minutes, then add egg, beating until well combined.

Reduce speed to low and add flour mixture and buttermilk mixture in batches, alternatively, beginning and ending with flour mixture. Mix until just smooth.

Drop rounded teaspoons of batter, 1 inch apart on baking sheets. Bake, switching positions of rack halfway through baking (top goes to bottom and vice versa). Bake until tops are puffed, edges are pale golden and cookies spring back when touched, 6 to 8 mins total. Transfer to rack to cool.

For icing:

Stir together confectioners sugar, corn syrup, lemon juice, vanilla and 2 tablespoons of water in a small bowl until smooth. If icing is not easily spreadable, add more water 1/2 teaspoon at a time.

Transfer 1/2 of icing to another bowl and stir in the cocoa, adding more water as necessary. Be sparing with the water. It is very easy to make it too runny.

With flat spatula, spread white icing over half the flat side of the cookie. Starting with cookies you iced first (so vanilla side has a bit of time to dry), spread choclate side on the other halves.